Mbya in Tourism Association
We are workers from different Mbya communities who are enthusiastic about community-based tourism. We are constantly working and training in different sectors in order to learn and transmit our message in the best way possible.
 Many people from the community are involved, several craftsmen and craftswomen exhibit their work. There are the guides, the people assigned to the kitchen, those who maintain the trail, members of the youth choir.
What do we offer our visitors?
The Guaraní Indigenous Tourism experience consists of a guided visit by members of the community, with a duration of approximately 2 hours. We go through an interpretative trail, where we see traps mostly used in the past and medicinal plants that we still use, we walk along the "Opy" (which is a temple where the shamans perform their rituals), and end with the presence of a youth choir performing traditional songs. You can add to the visit the sharing of typical meals made by the indigenous women of the community, as well as the extraction of food to make these traditional meals.
The fact that the villages are far from touristic accommodation means that the tourist has to travel to the community, yet this can be done in a private transfer, or on bicycles with local guides who offer the experience.
And once on the tour, you can interact with nature, touch the bark of the medicinal trees, smell the aromas of the herbs, harvest cassava for the "Mandió Siriri" (traditional food), watch birds, feel the earth and "dye" your shoes with the coloured pigment of the soil.
Our experience is culturally themed and experiential.
It is directly linked to the Iguazú destination as we are its native peoples. By teaching our customs through tourism, visitors to the destination will be able to get to know us and our history, visit the jungle and taste our typical dishes. We enrich Iguazú and its Falls as a destination with ancestral cultural nuance.
One of our objectives is that tourists come to the falls already knowing that they can visit us.
We want that when they search for Iguazú Falls, they can also find Mbya in Tourism.
We are interested in making our culture known to the whole world, we think it is important that both Argentineans and people from other countries learn who we are. And we also want to listen and learn from them.
We are looking for responsible tourism, with a maximum of 6 visitors per guide we consider it is enough, both to be in harmony with the environment and to make it comfortable to walk and listen to the guide. Besides, as there are several communities, visitors will be able to choose which one to visit.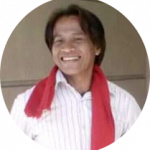 Santiago Moreira
PRESIDENT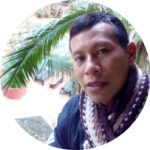 Fernando Villalba
VICE PRESIDENT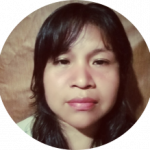 Graciela Moreira
SECRETARY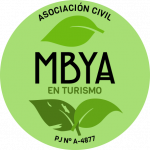 MBYA CIVIL ASSOCIATION IN TOURISM
Legal Status Nº. A-4877 FOLIO 70962/973 of the General Directorate of Legal Entities and Public Registry of the province of Misiones.
Incorporated on 07/03/2020